Message from CEO
Since it was founded in 2006, the copro group has grown substantially, through business focused on the outsourcing of construction engineers and plant engineers. In 2015, we shifted to a holdings system to facilitate operational diversification and the further improvement of our services. Since then, we have worked to develop services concentrated on "human resource development."
As of September 2020, after much hard work and the support of our partners and clients, we are now listed in the First Sections of both the Tokyo Stock Exchange and the Nagoya Stock Exchange. Looking ahead, we will keep striving to increase the value of our enterprise, always remaining keenly aware of our responsibility as a publicly listed company.
I decided to launch copro because I felt unhappy with the poor employee retention rate of the temporary staffing business. I felt a desire to change the temporary staffing industry. I believe there are four important pillars of the temporary staffing business. They are (1) Recruitment, (2) Training, (3) Matching, and (4) Retention. To expand its construction engineer placement operations, which is our main business, as well as our plant engineer placement business, the copro group will continue to untiringly pursue these four key elements, as we strive to increase the value of the corporation further.
We look at the temporary staffing business as a form of "human resource development." The copro group will confront the changing times by adopting AI and other new technologies, along with person-to-person communications, to enhance productivity and demonstrate its true worth. Yet, I believe that however much technology evolves, only people can do the work of caring for others.
Based on a firm belief in the unlimited potential of human beings, the group's vision is to "become a "human resource development" company that "ignites people's hearts." We will continue to focus on developing both the human skills and business skills of our employees, to ignite the flames of enthusiasm in each and every one of them, to spur them to action, and to inspire them constantly. In this way, we want to help create a dynamic "human-driven" society.
We are convinced that careful attention to training and matching, along with the effort to build an environment that enables employees to work energetically and excitedly, will lead to greater employee retention, allowing us to deliver the very best services we can to our clients. We are determined to work tirelessly toward this goal.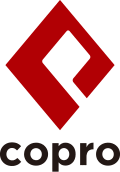 COPRO-HOLDINGS. Co., Ltd.
Kosuke Kiyokawa, CEO