To Individual Investors
Details of the Group's Business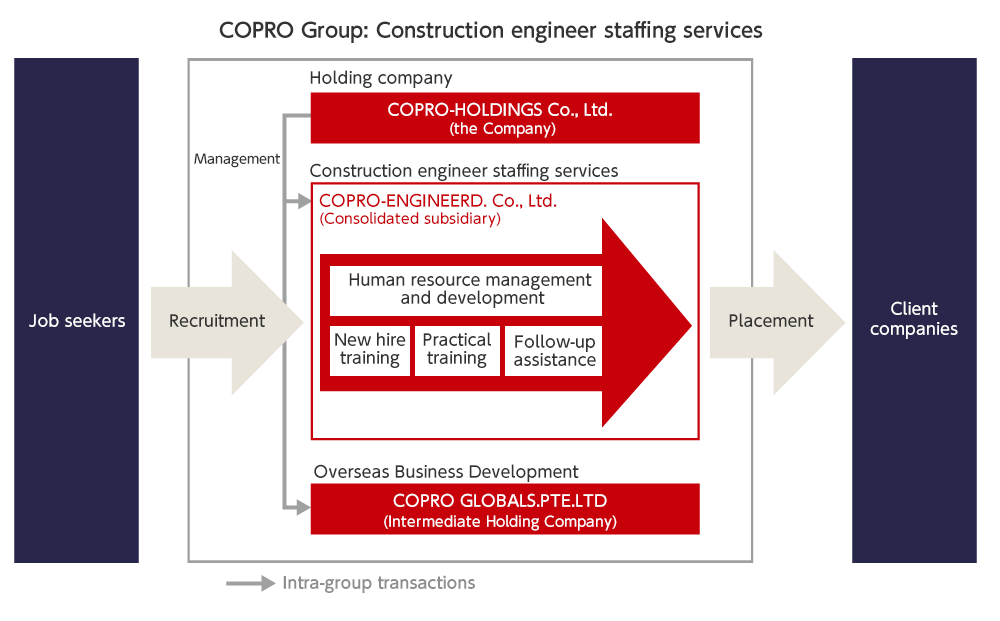 1. Secure human resources
In addition to web media, we operate Gen-Kyari, our own recruiting website specialized in the construction and plant industries. On this website, we provide full support from nationwide job posting, placement and post-placement consultation. We also make use of personal references, staffing agencies, and other recruitment channels, to recruit and hire young, inexperienced people, in addition to those with expertise.
2. Provide thorough new hire training
All newly-hired engineers receive training after joining us. We ensure that they have a sound mindset and attitude as our engineers. The training covers a wide variety of items including attendance management, compliance with work rules, information security, management system (the role played by those who assist our temporary staffing engineers), out-of-scope work, harassment, occupational safety and health (health checkups and follow-up care), responses in case of work accident, and hazard prediction. All of these things are what our engineers should be aware of. We train them in a way that they can take appropriate actions even when they encounter various troubles at their workplaces.
3. Establish a follow-up system to provide detailed assistance to temporary staffing engineers
We provide follow-up assistance to our temporary staffing engineers after they are placed to client companies, and manage their physical and mental health status. We are truly committed to improving customer satisfaction and resolving various issues regardless of the size of job sites, while providing quality assistance to our engineers and making them fully aware of the Group's corporate philosophy.
4. Offer training opportunities
We established training facilities called "Seeds of Supervision*" for the purpose of improving our engineers' skills through internal training aimed at new graduates and mid-career workers (or inexperienced people) and CAD training. We allocate dedicated instructors to each of the training facilities in Tokyo, Chiba, Nagoya, and Osaka, and provide career support through practical training programs according to the proficiency levels of program participants.
* Three features of training facilities "Seeds of Supervision"
1.
Basic programs are available for beginners and experienced engineers who have not worked for a while, including industry knowledge, job descriptions, safety management, jargon, and knowledge of drafting. As participants take our courses, they can steadily improve their skills.
2.
Programs are provided in a small group of one teacher and two to four students. This enables a detailed follow-up system so that teachers can train every student according to their proficiency level. This also enables students to make steady progress.
3.
The "Seeds of Supervision" training facilities are located at easily accessible places near major train stations in Tokyo, Chiba, Nagoya, and Osaka.


Our own recruiting website is specialized in the construction and plant industries. On this website, we provide full support from nationwide job search to placement and post-placement consultation. We have a system in place that allows us to understand engineers' skills and experience and to strengthen coordination between recruiting and sales activities so that our temporary staffing engineers can work with peace of mind and we can offer the best possible human resources to our client companies.
We post new jobs on the website every day. We are strengthening our recruitment of young, inexperienced people in addition to engineers with expertise.